Aarc-West
Industrial Coatings Inc.
Aarc-West Industrial Coatings, an affiliated company to the Aarc-West Group of companies, is a multi-faceted facility that provides a full range of sandblasting, painting, fireproofing and in-house insulation applications to the following:
Structural and miscellaneous steel

Vessels & Tanks, internal and external

Pipes, internal and external

Equipment

Pipe piles

Sheet piles

Ductwork
In our newly expanded shop in the New Westminster/Annacis Island Area, Aarc-West runs a fully enclosed blasting and painting operation with a lifting capacity of 25 tons plus mobile zoom booms for larger pieces. Our fully enclosed blast area of 50 ft wide and expandable to 150 ft long and our large paint area of 50 ft x 180 ft allow for handling of a wide variety of oversized steelwork. Our climate-controlled environment allows for quick turnaround plus high-quality curing.
With our 67,250 square feet of yard space and 42,450 square feet of additional warehouse/shop space, we have a straight-line offload to shipping operation that allows us to move your product seamlessly and efficiently through our shop as well as the ability to offer you value added services as needed. Our sister companies, Aarc-West Mechanical Insulation and Aarc-West Industrial Insulation can provide insulation to tanks, vessels, piping, and ductwork on site after coating is complete. Aarc-West Scaffolding can provide you with all your site scaffolding needs also.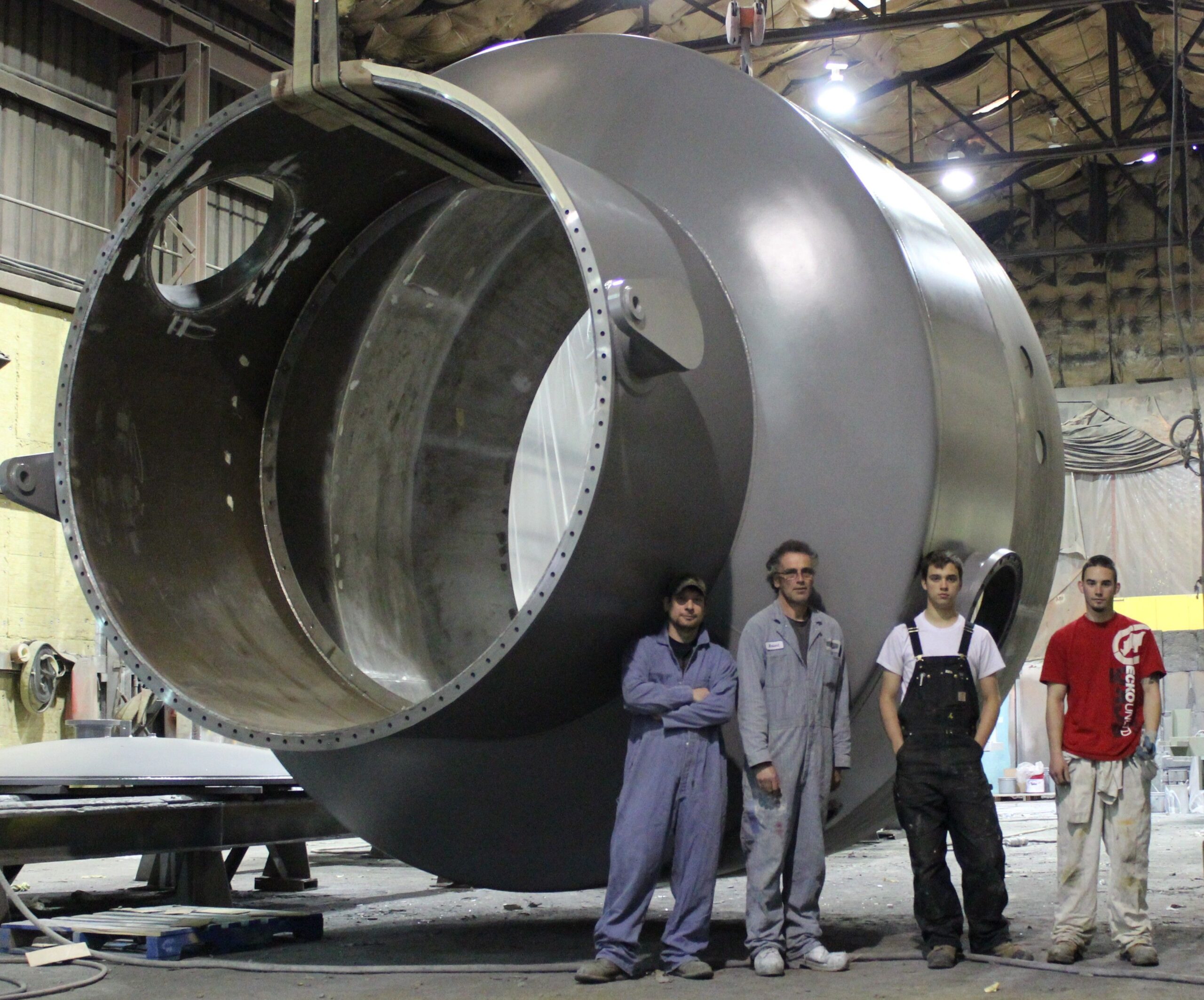 Aarc-West's team of highly skilled and knowledgeable employees has the experience in all aspects of your sandblasting, coating and insulation needs. We apply some of the most advanced coating and insulation systems available in our industry and we have developed a reputation for excellence in what we do.  All of our work is completed with high quality standards and attention to safety. Additionally, our shop has NACE certified personnel in order to ensure a quality QC Program and quality workmanship and a Safety CSO on staff to ensure follow all workplace safety regulations.
Aarc-West strives to provide an efficient and cost-effective process to fulfill not only structural steel coating in a timely manner but various other coatings applications as well such as architectural metal, machinery, equipment and other metal components.
Aarc-West is committed to quality and has developed a reputation for excellence in what we do. We apply some of the most advanced coating systems available in our industry and, essential to successful outcomes on challenging projects, is our painstaking attention to detail and strict adherence to project specifications and industry best practices. All of our work is completed with the same high quality standards and attention to safety.
At Aarc-West safety is a number one priority. Training, management commitment and employee participation in our safety programs is essential. This is accomplished by employing a dedicated individual to track training, certification and first aid to ensure all requirements are met and up-to-date.
Quality control requires the project manager and the project team to inspect the completed work to ensure that it's aligned with the project scope.
Protection of the environment is very important to Aarc-West and we are proud to have a high level of commitment to the environment and sustainability of natural resources which allows us to be a good neighbour in our community and help preserve the environment for the benefit of future generations
Join the Aarc-West team as we build a work environment that is safe, productive, respectful, challenging and educational and where every employee makes a difference and is an invaluable member of our team.





GALLERY

25+
Years of Experience


250
Employees


900+
Professional Projects Per Year